With Wednesday (November 10th) being the start of the signing period for the frosh class of 2022/23 for all Olympic Sports, thought I'd start this thread. As with prior years' threads where I did this, It will be used throughout the signing period to post any news (tweets, articles, pictures, videos, etc.) of future Olympic Sport Buffs officially signing their National Letters of Intents (NLI's).
As always, if/ as any Allbuffians see any official signing news for any future Buffs, please feel free to post it.
The main purpose of this thread is NOT to post news of
newly found
future Buffs, which is already covered in the
http://www.allbuffs.com/threads/recruiting-news-olympic-sports.101643/
thread. However, If any new (unknown to us) commits
do
pop up during the signing process, I'll probably post them both places (with more detail on them being put in the main recruiting thread).
Note- With the option of an additional eligibility year granted to those athletes who, along with their schools, want them, it will be interesting (at least to me) to see how much if any the freshmen classes are smaller over the next year or two.
______________________________________________________________________
For ease of reference, from the main recruiting thread (post numbers listed are to posts in that thread),
expected
signers for next academic year (2022/23) we know about so far that could be signing as early as November 11th are listed below by sport. As I think about it, I'll also fill in info below as we learn about what student-athletes have officially signed on to become future Buffs.
(Note- with these sports getting much less recruiting exposure than, say, football, it's
much
more likely that some listed below may end up going to another college.)
Cross Country/ Track and field:

Known to have Signed NLI - Men's - Georges, Givens; Women's - Bruce
Previously unknown signee(s) - Men's - ; Women's -

Golf (Men's & Women's):

Known to have Signed NLI -
Additional previously unknown commitment signee(s) - (Women's) - Miller (Post #7); (Men's) – Swanson (Post #19)


Lacrosse: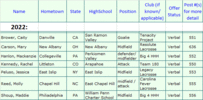 Known to have Signed NLI – Shoup, Brower

Previously unknown signee(s) -

Skiing:
None known about before the signing period.
Previously unknown signee(s) - Abrahamsson, Exenberger (Post #5);

Soccer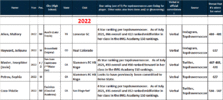 Known to have Signed NLI - Allen, Master, Thistle, Petrov, Hayward
Previously unknown signee(s) -

Tennis:

Known to have signed NLI -
Hayes
Previously unknown signee(s) -

Volleyball:

Known to have Signed NLI - Finley, Meller, DeSensi
Previously unknown signee(s) -
______________________________________________________________
(Note- it seems team sport athletes usually verbally commit AND often sign their NLI's much earlier than those in the "individual" sports (golf, tennis, track & field/ cross country and, especially, skiing), so expect more future Buff individual sport athletes to become known and sign as the signing period goes on.)
Last edited: