Real name isn't Nik
Club Member
Junta Member
Positives: Deep Texas ties with a strong coaching network. Has built a program and has had sustained success over a lot of years, including some special seasons. Also some background in CA & UT within the footprint. 181-79 career record with 18 bowls in 22 seasons.
Negatives: Latter years at TCU went from sustained winning to up & down to mediocre & down. Problems with team discipline and there seemed to be difficulty adapting to the changing landscape of CFB.
If the year away from the HC seat and hooking up with Sark + a chip on his shoulder with how it ended at TCU has lit a major fire under him, there's no question he can successfully lead a program.
At 63 in February, I would be looking at wanting a lot of youthful energy recruiters for the staff along with coordinators who could potentially be successors. Wasn't my first choice, but I could see this working and could get behind it.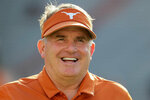 Last edited: